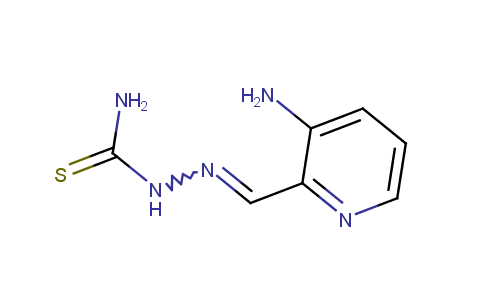 Triapine is also called 3-aminopyridine-2-carboxaldehyde thiosemicarbazone (3-AP), which is being studied in the treatment of cancer. It belongs to the family of drugs called ribonucleotide reductase inhibitors. Inhibition of this enzyme has been shown in vitro and in vivo to enhance the anti-tumor activity of several standard anticancer agents and enhance tumor sensitivity to radiation treatment. DNA synthesis disruption is due in part to the effective ability of Triapine.
Triapine is being developed under a Clinical Trials Agreement between the National Cancer Institute and Nanotherapeutics for the treatment of non-localized cervical cancer. If you are doing the related research, you must be in need of it. We have Triapine in stock right now. And the following are the details.
Cas#143621-35-6
Formula: C7H9N5S
M.Wt: 195.24
Synonyms: 3-AP; PAN-811; OCX191; NSC663249
Appearance: Solid powder
Purity: 98%
If you need more information, please feel free to contact us.