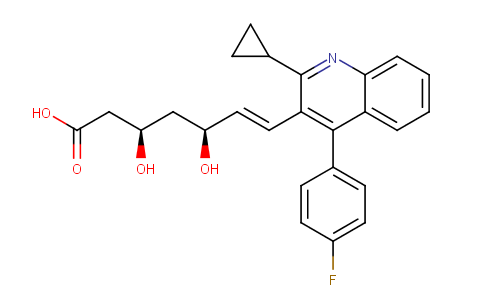 Pitavastatin is an inhibitor of HMG-CoA reductase, the enzyme that catalyses the first step of cholesterol synthesis, which is a member of the blood cholesterol lowering medication class of statins.
Sun-shinechem have high performance Pitavastatin Calcium and its intermediates in stock, which can be used in the related research. If you are in need of it, please don't hesitate to contact us.
The following are the related products.
Cas#147526-32-7 Pitavastatin Calcium
Cas# 24922-02-9 Ethyl 3-cyclopropyl-3-oxopropanoate
Cas# 32249-35-7 Methyl 3-cyclopropyl-3-oxopropanoate
Cas# 3800-06-4 2-Amino-4'-fluorobenzophenone
Cas# 121660-11-5 (2-Cyclopropyl-4-(4-fluorophenyl)quinolin-3-yl)methanol
Cas# 154057-56-4 3-(Bromomethyl)-2-cyclopropyl-4-(4-fluorophenyl)quinoline
Cas# 146578-99-6 2-Cyclopropyl-3-[(diphenylphosphinyl)methyl]-4-(4-fluorophenyl)quinolin
Cas# 154057-58-6 [2-Cyclopropyl-4-(4-fluorophenyl)-quinolin-3-ylmethyl]-triphenyl-phosphonium bromido
Cas# 121660-37-5 2-Cyclopropyl-4-(4-fluorophenyl)quinoline-3-carbaldehyde
Cas# 148901-68-2 (E)-3-[2-Cyclopropyl-4-(4-fluorophenyl)-3-quinolinyl-2-propenal
Cas# 148901-69-3 Ethyl (E)-7-[4-(4'-fluorophenyl)-2-(cyclopropyl)-3-quinolinyl]-5-hydroxy-3-oxo-6-heptenoate
Cas# 172336-32-2 Ethyl (E)-3,5-dihydroxy-7-[2-cyclopropyl-4-(4-fluorophenyl)-3-quinolinyl]-hept-6-enoate