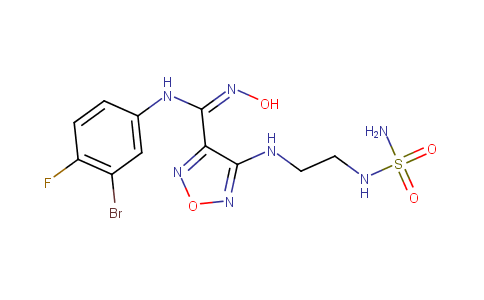 Lots of companies developing the small-molecule drugs hope to expose cancer cells to the immune system. IDO inhibitor 1 is one of the small molecules. IDO is an enzyme that we and others have found to drive immune escape in tumors, where IDO is often inappropriately switched on. If you are working on the related research and in need of IDO inhibitor 1, please do not hesitate to contact us. Here are the details of IDO inhibitor 1.
Product Name: IDO inhibitor 1
Cas No.: 1204669-37-3
Formula: C11H13BrFN7O4S
M.Wt: 438.23
Chemical Name: (E)-N'-(3-bromo-4-fluorophenyl)-N-hydroxy-4-((2-(sulfamoylamino)ethyl)amino)-1,2,5-oxadiazole-3-carboximidamide
Appearance: Solid powder
Purity: ≥ 97%
More details, please feel free to contact us.