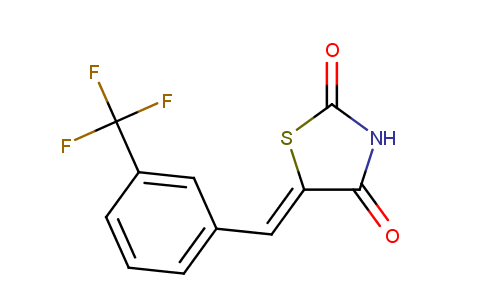 SMI-4a, a small molecule inhibitor of Pim protein kinases blocks the growth of precursor T-cell lymphoblastic leukemia/lymphoma, is an very important compound for R&D of the related new drug.
After a month effort, our chemists have managed to complete the synthesis of SMI-4a.
The following are the details.
CAS No.: 438190-29-5
Formula: C11H6F3NO2S
M.Wt: 273.23
Chemical Name: (5Z)-5-[[3-(Trifluoromethyl)phenyl]methylene]-2,4-thiazolidinedione
Structure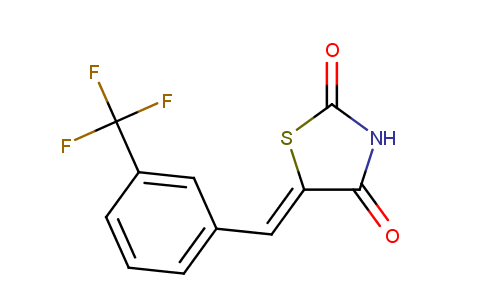 Appearance: crystalline solid
Purity: 98%
Solubility: Soluble in DMSO
Storage: 3 years -20℃powder 6 months-80℃in solvent
Shipping condition: Shipped under ambient temperature
If you are in need of it, please feel free to contact us.
Contact details
Add: No.8 Rd, The Great Wall Park, DonghuHigh-Tech District 430074, Wuhan, P.R.China
Contact person: Rosie Liu
Email: sales02@sun-shinechem.com
Tel: 0086-27-592533270086-27-59253327
Call
Send SMS
Call from mobile
Add to Skype
You'll need Skype CreditFree via Skype