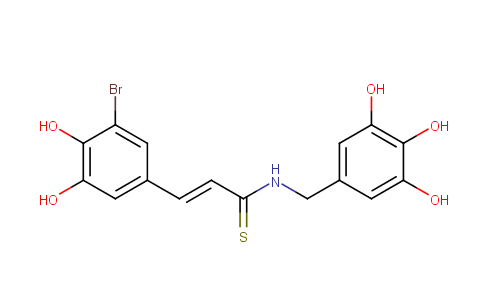 One mission of Sun-shine bio is trying to help customers to advance the research and development in a wide variety of areas. So keeping developing new product is our daily work which is never been stopped.
Two weeks ago, we managed to manufactured the new compound: NT 157 Cas No. 1384426-12-3, which is mainly used for cancer treatment. NT 157 promotes ERK-MAPK dependent inhibitory Ser-phosphorylation and degradation of insulin receptor substrate 1 and 2 (IRS1/2) by shifting IGF1R complexation from IRS1/2 to Shc, which results in long-term inhibition of IGF1R signaling and powerful inhibition of tumor cell growth.
Well, when it comes to the research, I believe you will be more professional. What we can do is to try our best to offer high performance compounds for your research.
The following is the details about the products.
Chemical Information
CAS No.:1384426-12-3
Formula: C16H14BrNO5S
M.Wt: 412.26
Synonyms: NT157;NT 157
Chemical Name: (E)-3-(3-bromo-4,5-dihydroxyphenyl)-N-(3,4,5-trihydroxybenzyl)prop-2-enethioamide
SMILES S=C(NCC1=CC(O)=C(O)C(O)=C1)/C=C/C2=CC(O)=C(O)C(Br)=C2
InChi: InChI=1S/C16H14BrNO5S/c17-10-3-8(4-11(19)15(10)22)1-2-14(24)18-7-9-5-12(20)16(23)13(21)6-9/h1-6,19-23H,7H2,(H,18,24)/b2-1+
Elemental Analysis: C, 46.61; H, 3.42; Br, 19.38; N, 3.40; O, 19.40; S, 7.78
Technicel Data
Appearance: yellow solid
purity: 98%
Solubility: Soluble in DMSO
storage: 3 years -20℃
Shipping condition: Shipped under ambient temperature
If you are in need of it, please be free to contact us. We are sure any of your inquiry will get our prompt reply.